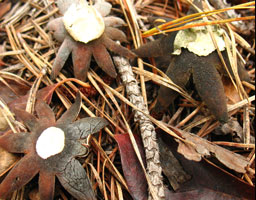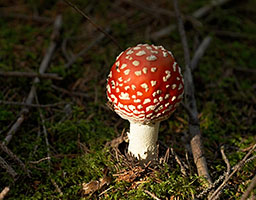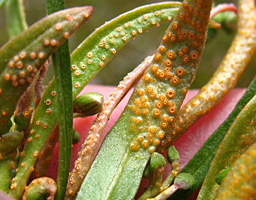 The Rutgers Mycological Herbarium has been estimated to contain more than 40, 000 fungal collections. Rutgers is part of the National Science Foundation sponsored Microfungi Digitization Project. We will be digitizing records of all collections in the coming months.
The Rutgers Mycological Herbarium contains the collections of the Rutgers Plant Pathology Herbarium (RUTPP) and the New Jersey Mycological Association. It also includes several historical collections as follows:
Alabama Biological Survey
Arthur & Holway - Ured. Exs. Et Icon.
Anderson & Kelsey - Fungi of Montana
Allescher & Schnabl - Fungi Bavarici
Columbia College
Cavara - Fungi Longobardiae Exs.
Carleton, Uredineae Americanae
C. F. Baker Collections
DeThuemen - Mycotheca Universalis
DeThuemen - Fungi Austriaci
Eriksson - Fungi Paras. Scand.
Erdman West Herbarium
Fungi Columbiani
W. G. Farlow
Griffiths - West American Fungi
Heller Collections
B. D. Halsted Herbarium
Krieger - Fungi Saxonici
F. D. Kelsey Herbarium
Kellerman & Swingle - Kansas Fungi
Kellerman - Ohio Fungi
Linhart - Fungi Hungarici
North American Uredinales
North American Fungi
Polyporaceae of North America
Pringle - Mexican Fungi
Rocky Mt. Herbarium - Univ. Wyo.
Romell - Fungi exs. Prae. Scand.
S. M. Tracy Collections
Sydow - Ustilagineen
Sydow - Uredineen
Sydow - Phycomyceten et Protomyceten
Sydow - Mycotheca Marchica
Swingle - Flora of the United States
Shear - New York Fungi
Seymour & Earle - Economic Fungi
C. A. Schwarze - Fungi of New Jersey
D. Saccardo - Mycotheca Italica
L. M. Underwood Collections
R. P. White Herbarium
The New Jersey Mycological Association (NJMA) has maintained a macro-fungi herbarium since 1978. It is named in honor of two departed members—Raymond M. Fatto and Dr. Eugene H. Varney. There are over 2,700 dried specimens that are kept with the mycological collection of Rutgers University in the Chrysler Herbarium. Anyone interested in examining these specimens please contact Dorothy Smullen through njmyco@njmyco.org.