News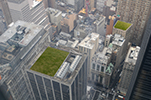 Eco-artist and Fine Art Professor Elizabeth Demaray Becomes the Inaugural SciArt Artist-in-residence in Chrysler Herbarium at Rutgers University
News release from September 25, 2020
---
International Conference Talk on the Chrysler Herbarium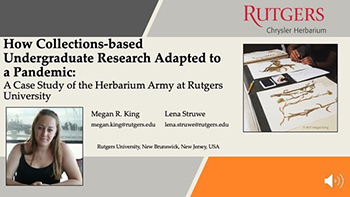 Collections Manager, Megan R. King of Rutgers Chrysler Herbarium presents a talk on 'How Collections-based Undergraduate Research Adapted to the Covid-19 Pandemic'. This 15 minute presentation was presented at the national Botany 2020 conference, held virtually between July 27th to July 31st, 2020. The presentation goes over the size and contents of the herbarium collection, its many funded specimen imaging projects, current undergraduate research projects within the collection, and the valuable skills learned by undergraduates whom are involved in collections based work. To date the herbarium has welcomed just under 100 undergraduates to work in the collection, whom developed unexpected skills, their own research projects and engaged in social media outreach. When Covid-19 hit New Jersey in March of 2020, the herbarium followed closure and protocols as did Rutgers. The 8 students enrolled in credit work during the Spring 2020 semester then had to convert over to virtual based work to complete their credit requirements, leading to substantial data in the collections' online database. Watch here to find out how they did it, what their research includes, as well as how students shared botanical learnings and furry co-workers!
See the full story in the SEBS/NJAES Newsroom »
---
News from 2019
---
Stories
Please check again later. Herbarium stories will be posted soon.